Concern for his pregnant wife and soon-to-be-born twin girls prompted one scientist's obsession with COVID-19 testing, ultimately leading to a synergistic effort that helped keep the UC San Diego campus, local schools and community safe, and made numerous research projects possible.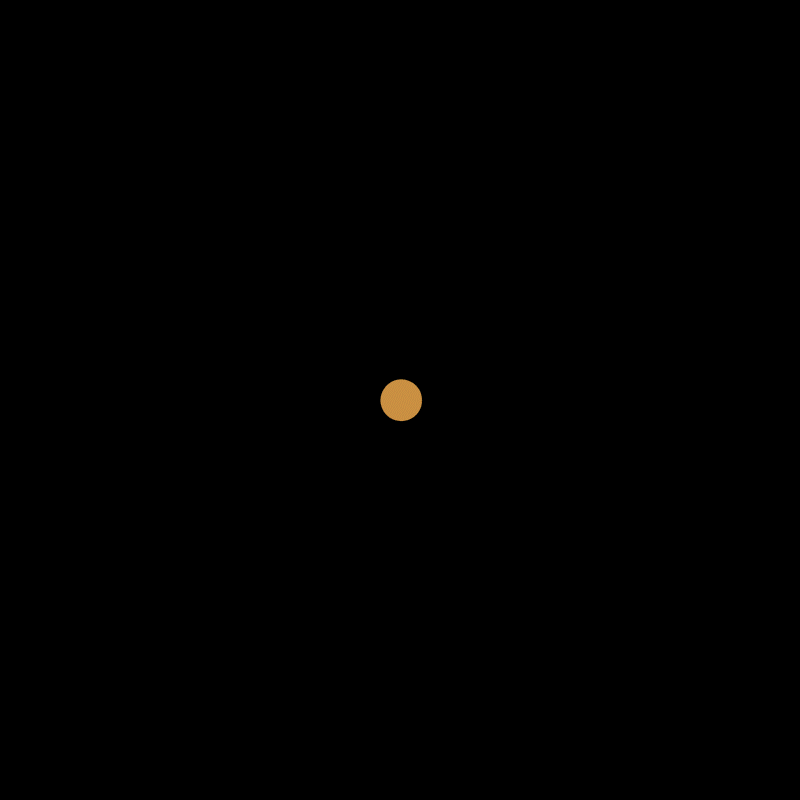 — Research
Tested & Testing
A synergistic effort that helped keep the UC San Diego campus, local schools and community safe.
Concern for his pregnant wife and soon-to-be-born twin girls prompted one scientist's obsession with COVID-19 testing,
ultimately leading to a collaborative effort that helped keep the UC San Diego campus, local schools and community safe, and made numerous research projects possible.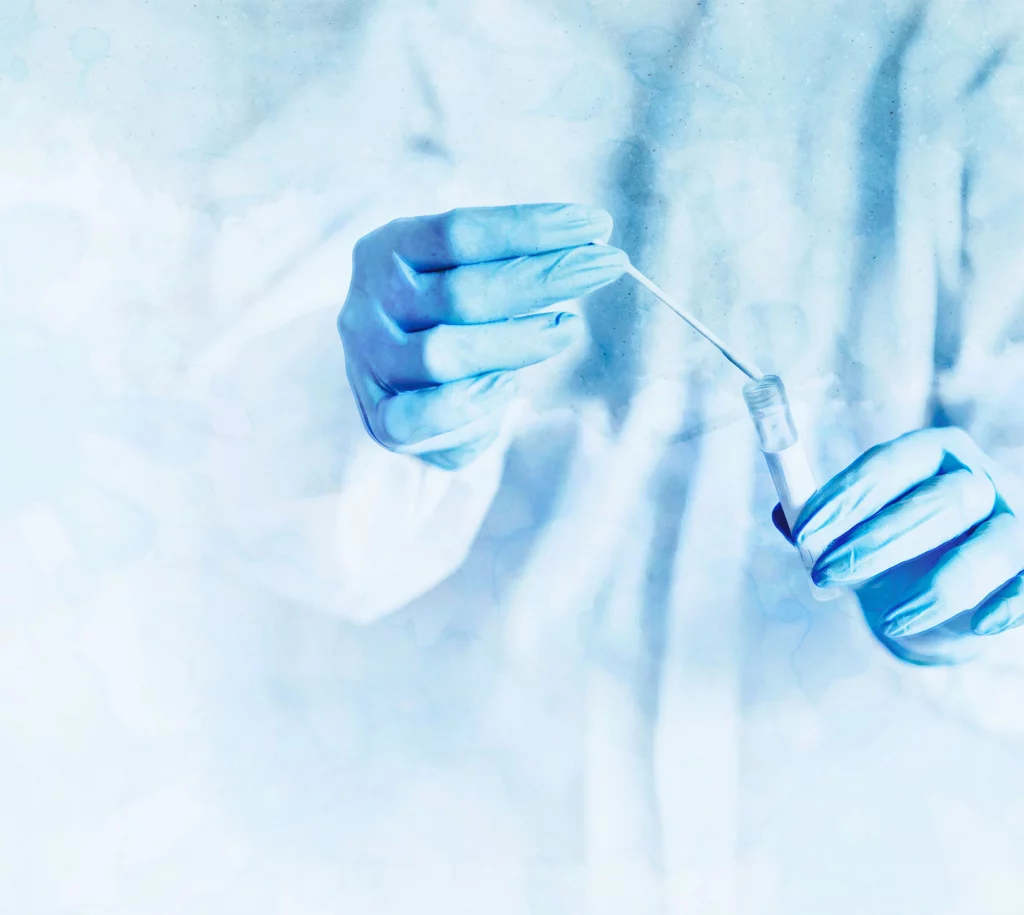 Expecting twin girls, Gene Yeo and Corina Antal thought it would be fun and meaningful to hold their baby shower on International Women's Day.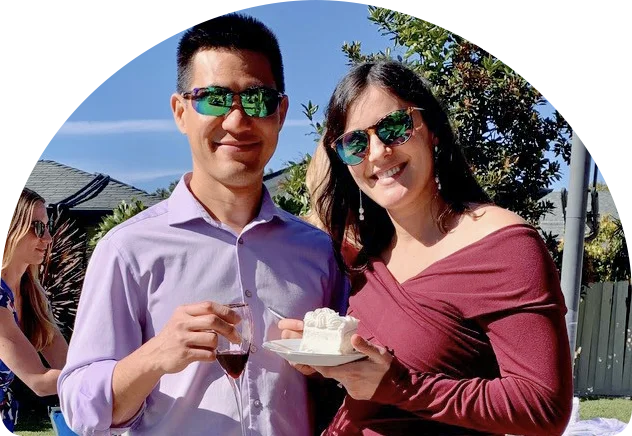 The couple was "beyond excited," but also anxious. They were expecting not just identical twins, but monoamniotic-monochorionic (MoMo) twins, which means the fetuses shared a single placenta and amniotic sac. It's an extremely rare type of pregnancy, occurring in just one in 60,000 pregnancies. Pregnancies with MoMo twins are considered very high-risk because of heightened dangers of umbilical cord entanglement.
That much Yeo and Antal knew. Now, a new danger loomed.
The baby shower was March 8, 2020. Earlier that week, California Governor Gavin Newsom had declared a state of emergency due to the spread of a novel coronavirus that had only recently been formally named severe acute respiratory syndrome coronavirus 2 (SARS-CoV-2) and the cause of coronavirus disease-2019, or COVID-19.
At their baby shower, Yeo and Antal prudently asked everyone to wash their hands as they arrived. Guests laughed at the novelty of elbow bumping instead of hugging or shaking hands, still becoming accustomed to the new public health recommendation intended to help prevent the spread of COVID-19.
Over the next few days, the first local community case would be reported in San Diego County, the World Health Organization would officially declare a COVID-19 pandemic and schools throughout San Diego County would close.
"As scientists, we were not only reading all the studies we could find on MoMo twins, but now we were also learning all we could about COVID-19,"
said Yeo, PhD, a professor of cellular and molecular medicine at UC San Diego School of Medicine. Antal, PhD, is a postdoctoral researcher at Salk Institute for Biological Studies.
Yeo leads a research team focused on RNA, how cells translate the genetic material into proteins, how these processes are regulated and how they can go wrong in diseases like adult-onset muscular dystrophy and ALS. But the COVID-19 pandemic was a crisis of global proportions, and Yeo felt he needed to do something, to help make the world safer for his growing family.
A few days after the baby shower, Yeo logged into Slack, where many other local researchers were also eager to help.
With their own research programs paused, conferences cancelled, lab teams working remotely and a lot of leading-edge technology shut down and gathering dust, these bored, anxious, smart people were keen to use their time and talents to at least help blunt the coming waves of COVID-19 cases.
What started as a small online discussion for local researchers — a support group of sorts — exploded into a round-the-clock frenzy of activity. Within a few months, nearly 1,000 scientists were sharing information, forming research collaborations, offering available research reagents, technology, sourcing materials and volunteers. (The community later became screencovid.info.)
1000 Scientists Sharing Information
At the time, SARS-CoV-2 was not yet highly prevalent in San Diego. The main and pressing concern was personal protective equipment (PPE) for health care workers. Sudden, high demand worldwide for surgical masks, N95 respirators, paper gowns and gloves produced alarming shortages.
In California, health systems had some wiggle room to shore up supply chains and implement emergency plans, but in places like New York City, hit by one of the first and worst surges of cases in the U.S., some health care workers were forced to repeatedly reuse masks, or even wear trash bags instead of medical-grade gowns. The Slack community of San Diego scientists zeroed in on the PPE problem with unprecedented clarity and cooperation. Yeo helped facilitate that effort, but he had other worries too.



Knight was sheltering in place at home with his partner, a bioinformatician, and their eight-year-old daughter, struggling to balance two work and one school Zooms simultaneously, in a small house not intended for it.
Knight is originally from New Zealand, a country known for handling the COVID-19 pandemic differently — and very successfully. Yet even early on, he recognized that his home country's ability to enforce stricter lockdowns and the advantage of being an island made his family's situation a bit different than the one he faced in the U.S. Because the COVID-19 case rate was always low in New Zealand, they didn't need to invest in as much technology to solve the problem.
"It's the difference between setting your toast on fire, in which case you just need a cup of water to put it out, versus your whole house is on fire and you need a fire truck," said Knight, PhD, professor at UC San Diego School of Medicine and Jacobs School of Engineering and director of the Center for Microbiome Innovation.
"So we decided to build the fire truck."
Yeo and Knight Slack-messaged and emailed everyone they could think of in San Diego to ask how many thermal cyclers they had.
"We had this crazy plan to bring them all together in one spot to run tests,"

— Gene Yeo
"And then Louise chimed in on Slack and said that she not only had the instruments, she'd been miniaturizing the COVID test and it's all in her lab, just one floor up from mine."
Thermal cyclers and PCR:
How SARS-CoV-2 is detected.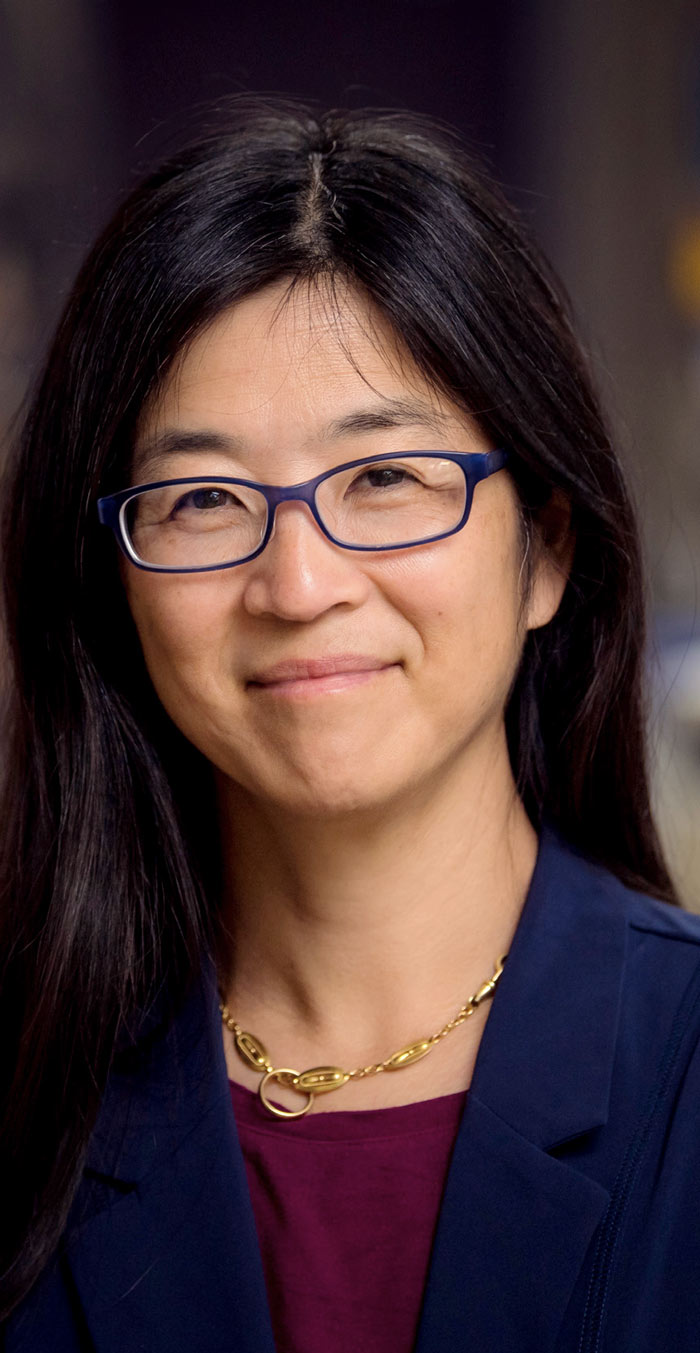 At the time, Louise Laurent already had what sounds like multiple jobs:
As a perinatologist, she cares for women with high-risk pregnancies. She runs a research lab focused on understanding the molecular mechanisms involved in human development and looks for molecular clues that could help predict or diagnose pregnancy complications. She's also a mother of four: two in high school and two in college.
"I've long been interested in the process of fetal development, labor and birth — something we all go through, yet we don't understand all that well. Women's reproductive health has always been a little bit of a second-priority type of thing when it comes to research and funding," said Laurent, MD, PhD, professor of obstetrics, gynecology and reproductive sciences, vice chair for translational research and co-director of the Center for Perinatal Discovery at UC San Diego School of Medicine
The due date for Yeo and Antal's twins was fast approaching. At one of the couple's hospital visits, they were pleasantly surprised to see Laurent, the on-call perinatologist, walk into the room. She went over the monitoring and birth plan with them.
"It was so funny to suddenly see this person that I'd been talking to professionally by email about thermal cyclers, here to help us take care of our twins, too,"

— Gene Yeo
In early April, Antal was admitted to Jacobs Medical Center at UC San Diego Health for observation.
On April 14, at 32 weeks gestation and via Cesarean section, Antal and Yeo welcomed their MoMo twins, Emilleen and Emabelle, who each weighed approximately three pounds.
In mid-May, Emilleen and Emabelle were ready to graduate from the NICU.

"When we finally got home, it's probably an understatement to say that I was a bit distracted by them," Yeo said. "There were so many meetings, even when I was chairing a session or giving a talk, where one of the babies was screaming and I had to go grab her and hold her before I could continue.

"There were so many times I had to text Rob and Louise to say that I couldn't make a meeting, but they have kids too, so they get it. Everyone has been so understanding. I even learned to delegate, to give more freedom and independence to the people in my lab, and they've done amazingly well."
The COVID-19 screening study at Rady continued to hum along, boosted by a donation from philanthropists Gary and Jean Shekhter, but it wasn't an easy or simple operation.
Volunteers and lab staff transported samples around town, from the drive-through to Yeo and Laurent's labs on one side of UC San Diego's La Jolla campus, to Knight's lab on the other, to Andersen's lab down the street.
The collection and testing process was not CLIA-certified, so any positive samples needed to be sent back to the clinical laboratory at Rady Children's Hospital for re-testing, confirmation and communication to the participant.
"Everything we did was considered part of a research study, not a clinical diagnostic test," Knight said. "The drive-through worked, but it wasn't the most efficient or cost-effective process. We tweaked and optimized, learning everything there is to know about running a large-scale viral testing facility."
Excite: Expedited COVID Identification Environment
In early July, COVID-19 cases surged in San Diego and the drive-through site closed down so staff could be redeployed to patient care. But soon after, the team's original dream of "everything in one place" was realized, and a new COVID-19 testing facility was born: Expedited COVID IdenTification Environment, or EXCITE.
The Department of Pathology at UC San Diego School of Medicine had two small laboratory spaces they had been reserving for new faculty, but with hiring and onboarding delayed due to the pandemic, the empty space was offered to EXCITE.
Laurent submitted the paperwork to extend an existing CLIA license, previously granted to the Biochemical Genetics Lab in the Department of Pediatrics, to include EXCITE in late-August; approval came September 4. Eleven days later, the team completed clinical validation of their COVID-19 qPCR test.
EXCITE runs COVID-19 tests in a mostly-automated assembly line, from intake to RNA extraction to qPCR and detection. Samples to be tested are barcoded so technicians don't handle private patient information. Everything is tracked by the laboratory information management system and, depending on the source, test results are reported directly to patients' electronic medical records or the physician leading a partner program. All positive results are also reported to San Diego County's public health office.
A bonus is redundancy. The lab runs COVID-19 tests on a different platform than the Center for Advanced Laboratory Medicine at UC San Diego Health, which Yeo says helps safeguard against shortages. If one site is down for some reason, the campus will still have the other.
Laurent says one of the upsides of the pandemic has been the opportunity to work with so many different people. Before EXCITE, she had worked with Knight on a few small projects to study changes in the gut microbiome during pregnancy. Yeo's research lab is in the same building as hers.
"But it's a lot different when you actually have to start a lab with someone — buy equipment, hire people and all that," she laughs. Yeo calls the group his "COVID buddies."
3000 Tests per Day
"We routinely run about 3,000 tests a day without really breaking a sweat," Laurent said, "and we could double that without too much trouble if we had to."
While the Center for Advanced Laboratory Medicine at UC San Diego Health continued to be the health system's primary testing facility for tens of thousands of staff, patients and other community members, EXCITE played an integral role in UC San Diego's Return to Learn program, a science-informed approach that allowed the university to continue to offer on-campus housing and in-person classes and research opportunities throughout the pandemic. Largely because EXCITE could provide regular asymptomatic testing of all students, staff and faculty, the university hosted approximately 10,000 students on campus in the fall of 2020, maintaining a positivity rate of less than 1 percent, generally 10 to 15-fold lower than the surrounding community.
But even Return to Learn didn't max out EXCITE's testing capacity. Testing services were soon extended to local fire departments and schools.
"I'm proud that we're serving populations that weren't necessarily the first priority in the pandemic — children, students, frontline workers," Laurent said.
"We're serving a need that might not otherwise have been served."
Laurent and team quickly kicked EXCITE into high gear, managing 20 people working two shifts, seven days a week.
On December 15, the first COVID-19 vaccines arrived in San Diego, going first to health care workers and COVID-19 testing and research lab staff.
"After nine months of relentless bad news, the announcement that a vaccine was developed faster than for any virus before was an amazing piece of good news — even leading some to think the pandemic would be over soon," Knight said.
Vaccine optimism helped blunt the disappointment of the holiday season. None of EXCITE's leadership was able to see extended family: Yeo's parents live in Singapore, Laurent's in Kansas and Knight's in New Zealand. One of Laurent's daughters was unable to come home from college in Canada for fear she wouldn't be able to return to school. Knight's daughter hadn't touched another child in nine months. Yeo and Antal celebrated Emilleen and Emabelle's first Christmas quietly at home, just the four of them, opening presents with their extended family over Zoom.
Then Came the Variants
On December 29, an EXCITE technician spotted the tell-tale "S dropout" in a test sample. The team drove the sample over to Scripps Research, where Andersen's lab labored through the night to sequence the full genome of the virus in the sample. They confirmed the first known case of the B.1.1.7 variant in California. It was a local man in his 30s who had not recently traveled, indicating the variant was already spreading in the community.
"It's not random chance that we were the first to detect B.1.1.7 in California. It wasn't because it wasn't anywhere else. It's because we were looking for it,"
Knight said, "and because we already had highly trained EXCITE staff, sequencing built into our workflow thanks to close collaboration with Scripps Research, support from our own research lab members, as well as the cooperation of many campus administrative units that quickly turned around the various approvals we needed to be able to do this work with patient samples, between two different organizations."
More than a year into the COVID-19 pandemic, EXCITE has evolved into not just a high-throughput clinical testing lab, but also a research hub.
"We're available to any researcher in San Diego who has a question about the virus that we can help answer through testing and sequencing. For example, how long does the virus survive on surfaces? What kills it? How does it evolve under certain conditions?" Laurent said.
Despite increasing vaccination rates, Laurent said it's still critically important to understand where the virus lurks, who is most likely affected and how best to deploy resources.
"There are still many areas of San Diego, and the country, that are disproportionately affected by COVID-19 and experience a number of barriers to health care, testing and vaccination. We need to overcome these to reduce health disparities."
To that end, Laurent is involved in two projects supported by Rapid Acceleration of Diagnostics (RADx) grants from the National Institutes of Health. One study seeks to maximize COVID-19 testing among pregnant women and children in an area of San Diego near the U.S.-Mexico border with the highest local incidence of COVID-19. In the other, a team is working to enhance asymptomatic COVID-19 testing capabilities at three regional community health centers in San Diego County.
Sequencing Remains a High Priority
"We're furiously trying to expand sequencing of positive samples so we can build phylogenetic trees — maps that help us track how the virus is evolving and when and where new variants of concern may be emerging," Knight said.
"Fortunately, especially compared to one year ago, we have more funding and more equipment, and we are expanding sequencing capabilities rapidly."
Sequencing SARS-CoV-2 samples also allows researchers to explore some interesting questions. For example, UC San Diego researchers are sequencing samples from patients with severe cases of COVID-19 in the intensive care unit to see if the viruses infecting them differ genetically from those causing milder disease in other people.
Another UC San Diego team is working with EXCITE to sequence SARS-CoV-2 samples repeatedly collected from the same patient over time. The patient has a blood cancer and has undergone chemotherapy, leaving him with next to no immune cells. For months, the patient has continuously tested positive for COVID-19 because his body has no way to get rid of the virus. As his physicians work to get him well enough to resume chemotherapy, researchers are sequencing his samples to keep tabs on how the virus may mutate as it replicates without restraint.
"It was hard at first, but as more testing happened and we were more reassured that the right behaviors were being adopted in our community, we realized that we're going to be fine. The girls are thriving now."

Your browser does not support the audio element.

— Gene Yeo, PhD
Read More Featured Stories